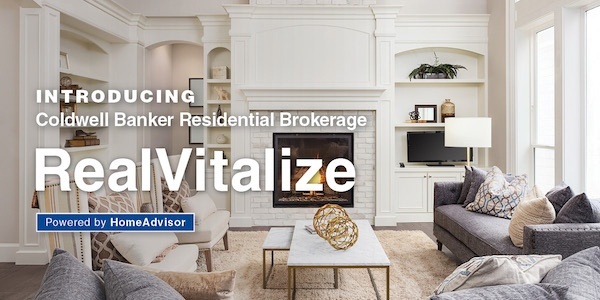 MAXIMIZE YOUR PRICE WITH
RealVitalize
MAXIMIZE YOUR SELLING PRICE AND SELL YOUR HOME FASTER
Fix your Home Up With nothing upfront and no payment until closing.
Easy and hassle free!
What is RealVitalize?
The RealVitalize©  program is an exclusive new offering for Coldwell Banker Realty clients, helping with home improvements and repairs to prep your home for sale. We cover your upfront costs and get paid back when your home sells. No hidden fees, interest charges or markups.
Remarkable Results: Homes using RealVitalize©  sell more than 25%* faster!
Powered by HomeAdvisor, RealVitalize© helps with improvements and repairs to prepare your home for sale. We cover the upfront costs and get paid back when the home sells.
No hidden fees
No interest charges
No markups
No payments until closing
No Qualification Restrictions
Any residential home listed by you qualifies to participate – no list price or project cost requirements, no equity or credit check for the seller to enroll.
Risk Free
We take the risk to front the home seller the cost of repairs to maximize the home sale. No liens are placed on the property and no agent commission risk to secure repayment.
No Fees, Sellers Pay What They Owe
The seller pays back only what they've spent for services when the home sells, with no additional fees, charges or markups.
While homes typically sell for 94% of list price, with RealVitalize, agents sell their listings higher – on average 99% of what the home is listed for.
What to Expect
Trusted Network of Service Pros
RealVitalize© offers a trusted network of qualified and top rated service professionals covering services like painting, staging, landscaping, renovations, and much more!
Your Dedicated Project Consultant
Each listing gets a dedicated Project Consultant to help source the right vendor to complete work on time and on budget.
Choose from these popular projects and more!
• Staging
• Appliance Purchasing and Installation
• Kitchen and Bathroom Upgrades
• Carpentry
• Carpet Cleaning and Installation
• Cleaning and Maid Service
• Curb Appeal Enhancements
• Painting
• Drywall and Insulation
• Electrical Upgrades
• Handyman Services
• Plumbing
• Wall and Ceiling Repair
The benefit doesn't stop there! When you list with us and Coldwell Banker Residential Brokerage you'll also be able to use this program for Post inspection repair negotiations. If a buyer requests repairs that need to be done, but you don't have the funds to complete them, let the RealVitalize©  program work for you! It is really that easy!
Exclusions to RealVitalize that are not approved services include:
Structural work (ie: home additions, building a garage, or new roof)
Non-home related services (ie: moving costs)
The Three steps to selling Your home faster, getting Top dollar!  
Schedule a Consultation – Speak to your Agent, Meet with a

RealVitalize©

project consultant to discuss the services needed to prep the home for market.
Pick a Time for Projects – The project consultant will help manage projects from start to finish, finding appointment times to work conveniently within your client's schedule.
Enjoy a Smooth Sale – Experienced service professionals will show up on time to tackle improvements, and they will be billed directly to Coldwell Banker.
How much can a seller borrow as part of RealVitalize©? 
RealVitalize© will cover the costs up to an amount equal to the Listing Side Real Estate Commission set forth in the listing agreement at the agreed-upon price but not to exceed $50,000, while potentially negotiable on a case by case basis.
Is
RealVitalize©

the best choice for me?

With no risk or obligation, as there are no qualifications of eligibility to participate in the RealVitalize©  Program if you need to repair or renovate projects that need attention before selling your home.
Upgrades can help maximize Your sell price and limit the time for sale on market as it gives your home the appeal it needs to sell.

Remember, You can also consider using RealVitalize©  During your post-inspection renegotiation – we can Use RealVitalize©  as the solution to make your potential buyer repair concessions at no upfront costs to you as the seller.
Contact me so I can get you scheduled with
RealVitalize©

!
Stephen Simonson
404-326-0876 Call / Text